Kuruluş Osman Qaybtiisa 90aad
Kuruluş Osman
Overview
The life of Osman Bey, the son of Ertugrul Gazi and the founder of the Ottoman Empire.
Cast

Burak Özçivit

Özge Törer

Emre Basalak
Buse Arslan

Didem Balçın
Burak Çelik

Rüzgar Aksoy
Yıldıray Şahinler
Seasons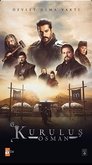 Season 1
Season 2

Season 3
Abone Olmak için ; http://bit.ly/2RkoW7H​
O, kömür karası gözleriyle, gaza ve hürriyet ateşini tutuşturacaktı.
Adı, Ertuğrul Gazi oğlu Osman'dı…
Karanlığın içinde ona yol gösteren "aşk" oldu…
Kan ve gözyaşıyla sulanan topraklarda, gök ekini gibi biçilen; yedi göğü, yedi yeri, dağları, denizleri aşacak bir milletin rüyasını "aşkla" gördü.
Gücünü kılıcından değil, "aşktan" aldı… Zorbalığa adaletle; köleliğe hürriyetle direnen, tarihin gördüğü en büyük imparatorluğa adını "aşkla" verdi.
72 milleti kıran bozuk düzene karşı başkaldırı, mazlumların sessiz çığlığına umut, Kuruluş'un adı oldu…
Kuruluş Osman… 400 çadırlık bir obadan, "ilahi aşkla" kurulan bir cihan imparatorluğuna yürüyüşün hikayesi.
#KuruluşOsman #BozdağFilm #Atv