Kuruluş Osman Qaybtiisa 58aad
Kuruluş Osman
Overview
The life of Osman Bey, the son of Ertugrul Gazi and the founder of the Ottoman Empire.
Cast

Burak Özçivit
Nurettin Sönmez

Özge Törer

Didem Balçın

Ragıp Savaş

Emre Basalak
Buse Arslan
Crew

Mehmet Bozdağ

Mehmet Bozdağ
Seasons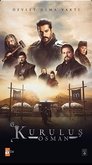 Season 1
Season 2
KURULUŞ OSMAN BÖLÜM 58
Kurulus Osman Qaybtiisa 58aad Türk obalarının mevt kalım savaşına sahne olan savaşta Savcı Beyefendi, Kalonoz tarafından haince sırtından hançerlenir. Umur Beyefendi ise Nikola ilgilerini düzeltmeye çabalarken, buyruğuna karşı çıkan kızı Malhun Hatun'u ağabeyinin yanına sürgün etmeye karar verir.